Photoshop
Complete Pack Bundle
Tools & training to master Adobe Photoshop.
You already use Photoshop. Discover the techniques and tools you are missing.
I want to help you...
Enhance your visual story with hundreds of easy-to-use Photoshop Tools.
Achieve stunning portraits in less time using the Shark Pixel Method.
Learn the fundamental techniques you need to create flawless images.
From Kristina.
The contents of this bundle are the cumulation of 20 years of working with Adobe products. I want to work quickly, get great results, and stay inspired. That's why I created this collection. You'll have every tool you'll need to create anything you can dream up. I can't wait to see what you create!
GET STARTED
In this bundle, you'll get:
9 Photoshop Masterclasses - Unlock Photoshop as a powerful retouching tool and learn my tips and tricks. Includes the new AI tools.
10 Portrait Masterclasses - Easily and confidently retouch portraits like a Pro in half the time.
12 Collections of Brushes - Hundreds of Photoshop Brushes designed to transform your images.
3 Bonus Masterclasses - Advanced topics such Weddings, Underwater and more.
Meet Your Instructor
Kristina is an award-winning retoucher and accomplished Adobe instructor.
This Bundle Will Change Your Photoshop Game
The easy route to transforming every image into a masterpiece!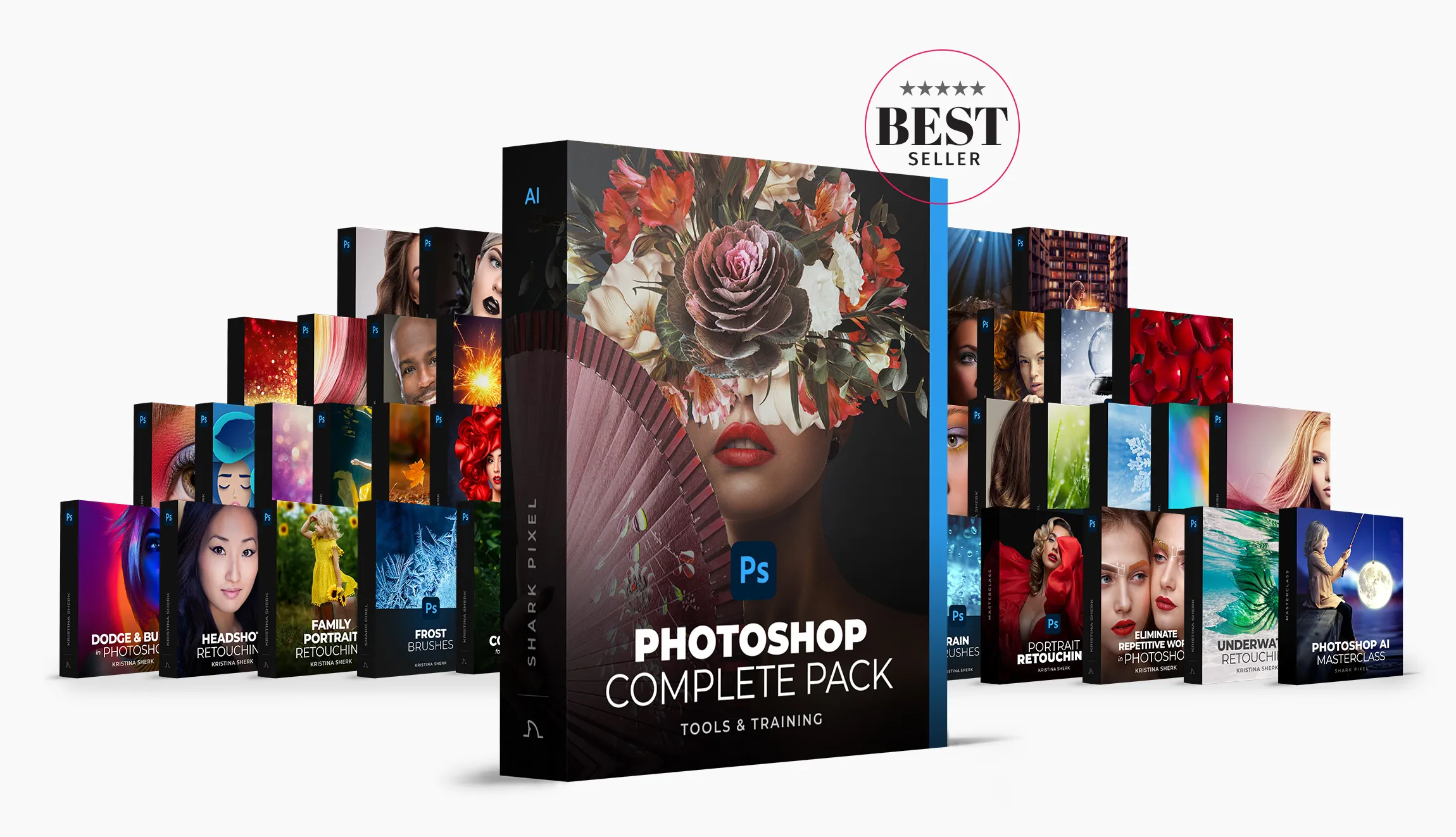 Hear what other users have to say…
"I have always used one-click solutions to handle skin problems in my portraits during the retouch. The problem is that they always looked slightly unnatural and fake. Now using Kristina's methods, I'm getting much more natural results, faster, and my clients are definitely pleased. I'd highly recommend this bundle to any photographer out there."
- Gavin R.
"I've always loved photography, but retouching was my Achilles' heel. This bundle of training and tools has transformed how I approach retouching. The techniques taught are subtle yet impactful, and the results are mind-blowing. My friends and family are amazed at the transformation in my photos!"
- Katie B.
"I learned more in these few hours with Kristina than I have in weeks of fruitless YouTube searching that never gave me the consistent, focused knowledge, and instruction that Kristina gives."
- Anita P.
Training
23 Masterclasses
9 Photoshop Masterclasses
Learn how to unlock Photoshop as a powerful retouching tool.
Photoshop AI
Discover the professional-grade results you can achieve using Photoshop AI.
Dodge & Burn
Learn one of the most powerful techniques to create perfect skin in Photoshop.
Selections
Making selections is an integral part of Photoshop, I'll show you how to master them.
Blemishes
Essential tools and techniques for a fast and efficient blemish removal workflow.
Masking
Learn how to master masking once and for all. Good for beginners and intermediate users.
Frequency Separation
Learn how to master the advanced Photoshop frequency separation techniques.
Compositing
Learn the basics of using Photoshop to create composites and how to improve your results.
Layers
I take you through every aspect of Photoshop Layers so you can use them to their full potential.
Actions
One of the most powerful features of Photoshop is to eliminate repetitive work, I'll show you how.
10 Portrait Masterclasses
Master the art of portrait retouching.
Pro Retouching
Learn the retouching techniques that are used by Professional Photographers.
Liquify
I'll show you how to use Photoshop AI liquify tools, great for all levels of photographers.
Headshots
Retouch your headshots to achieve stunning, natural-looking results, every time.
Eyes
Eyes are so important and I'm going to show you how to make them look fabulous every time.
Hair
In my 2 Hair masterclasses, I will teach you my secrets for easy and painless hair retouching.
Family
Learn simple techniques that help you elevate family portraits from good to incredible.
Male Portraits
I'll teach you how to professionally retouch male portraits for maximum impact and appeal.
Make-Up
I share my secrets & techniques for retouching makeup so it is flawless in every portrait.
Beauty
My deep dive into every single skill you need to learn in order to retouch beauty photography.
12 Collections of Brushes
Hundreds of easy-to-use Photoshop Brushes.
Bokeh Lights
42 high-quality bokeh brushes to quickly add intriguing lighting to the foreground of background of your portraits and composites.
Snowflake & Ice
Effortlessly add bokeh, falling snow, stars, ice crystals, snowflakes, and much, much, more to your images with one swipe of the brush.
Spring & Summer
This set has everything from bokeh to petals, fern leaves to dust, and atmosphere brushes. Add realistic effects in seconds.
Falling Leaves
With a few clicks, add falling leaves to your images. These make great foreground elements to push your subject into a scene.
Glitter & Bokeh
These fun glitter bokeh brushes will enhance your images by complexifying the lighting creating the perfect warm and impactful mood.
Stars & Sparkles
These are super fun brushes to use for adding some magic to your art. Enhance a patriotic scene or add some sparkle in seconds.
Snow
These custom brushes are made to look like real snow. Various shapes, textures, and sizes. You'll love the scenes you'll be able to create with these!
Frost
Completely cool off an image or, using these sparingly, add a hint of texture or atmosphere to an image in just a few seconds.
Rain
This fun pack includes 20 brushes that allow you to add rain and splashes to your images for that missing magic touch.
Petals & Dandelions
With 20 brushes, in different shapes and sizes, you'll have fun adding interesting floral effects to your images.
Light Leaks
Pure editing magic. Add another level of dimension and atmosphere to your art! Shower your subjects in beautiful light (even is there wasn't any)!
Light Rays
You'll love the effects you can create with these atmospheric brushes. You can gently change a scene or transport your subject to another place.
3 Bonus Masterclasses
Level up your photography skills with these techniques.
Common Mistakes
Learn how to fix the most common photography mistakes and how to avoid them.
Wedding Photography
Master these techniques as a wedding photographer and you'll have standout photos.
Underwater Retouching
Learn how to retouch underwater images for magazine-worthy results.
Transform Your Photos Instantly
Photoshop
Complete Pack Bundle
$3,360$99
The easy route to transforming every image into a masterpiece!
GET STARTED